Execution footage of Russian 'Intelligence Officer' Colonel Yegeny Petrenko was released today, May 9th, in conjunction with Russia's Victory Day, in which they celebrate the anniversary of the 1945 victory over Nazi Germany.
The authenticity of the recording has not been officially verified, nor is it clear when the killing occurred.
Numerous mainstream sources have varying facts over this supposed Russian 'Intelligence Officer.' His age ranges from 36 – 38, his rank changes between captain and colonel, and his first name is either Yevgeny or Evgeny.
It is a lengthy video, in which the unidentified man who murders Petrenko speaks Russian. Now granted, thousands of Russian soldiers by now have defected over to the ranks of ISIS, and this person more than likely is one of those soldiers, however there are some interesting things to bear in mind.
There is evidence of previous ISIS beheadings being recorded in a film studio. The video released today follows the same format as these fake videos:
Speaking at the annual Victory Day parade, President Putin called for further international cooperation in the fight against terrorism and extremism.
"No force will be able to dominate our people," the Russian President said.
This video certainly helps to instill further patriotism within the Russian people as well as increase Putin's ratings … and seems perfectly timed for his inspiring national speech.
The issue here, is Vladamir Putin, who is a former KGB (CIA version of Russia), is a mastermind of propaganda, and if you begin to dig, you see that it seems as if the web of Russian influence is expanding.
As Putin was coming in to power in 1999, there were a series of bombings in apartment buildings across Russia, in which 300 people died. These attacks were considered a crucial moment in the unfolding of Russian history, and are likened to the attacks of September 11, 2001 for Americans.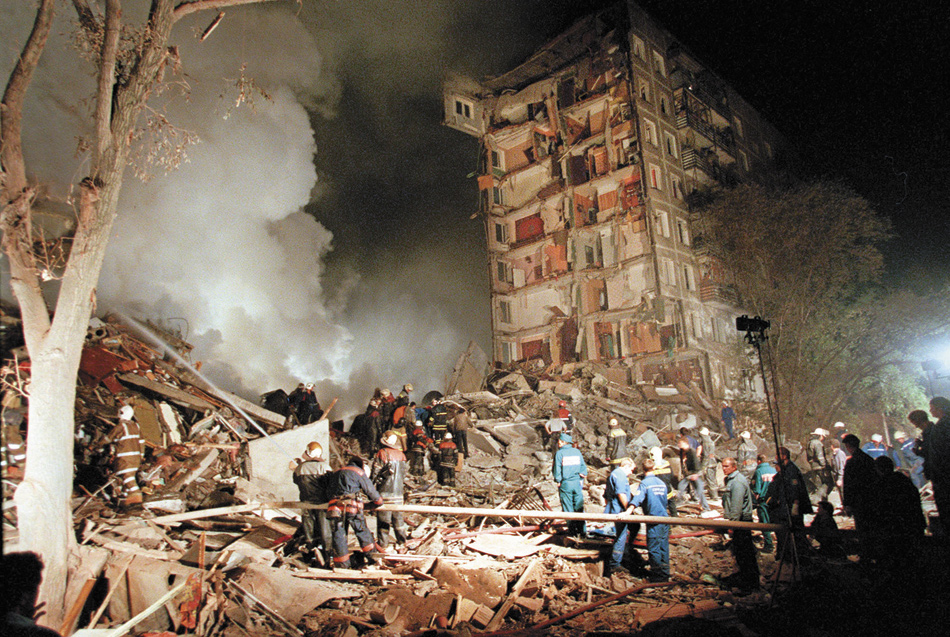 Ivan Sekretarev/AP Images
 A destroyed apartment building at the site of one of the Moscow bombings, September 9, 1999
There are questions surrounding Putin and the Kremlin as to whether they were involved. Russian authorities have basically stonewalled any attempt to investigate who was behind the bombings … and you have to wonder why?
Disinformation works very well under Putin's Presidency. They work behind the scenes to manipulate and control the opposition. One of the best sources of information behind how Putin utilizes propaganda to further his agenda is This American Life, Episode 614: The Other Mr. President.
It Seems as if Putin is Sculpting the Political Landscape
Yesterday, former acting Attorney General Sally Yates testified on Capital Hill that Russia could be blackmailing President Trump's top lawyer Michael Flynn. This is on top of the allegations that Russian hackers were behind the leaking of DNC emails that helped to topple Hillary Clinton.
Bulgarian officials say a former Russian spy advised them on how to manipulate voters as part of Kremlin's effort to regain influence in Eastern Europe.
Not only are Russian hackers linked to the previous United States Presidential election, but also France, and the upcoming U.K. Sir Michael Fallon, the Defense Secretary , warned last month that Britain must be wary of any attempts by Russia to influence its upcoming election in June.
A painting shows Vladimir Putin, Marine le Pen and Donald Trump at Le Pen's campaign headquarters CREDIT: AP
"Putin is waging war against Western democracies and our President is on the wrong side," Brian Fallon, former Clinton campaign press secretary, wrote on Friday evening.
Putin is waging war against Western democracies and our President is on the wrong side.https://t.co/SOPkWxoMvR
— Brian Fallon (@brianefallon) May 5, 2017
It has also been reported that Russia has been gradually integrating Ukraine back into Russian sovereignty under the guise of Ukrainian activists as political cover, to take over key economic links within the separatist zones.
Russian hackers are also considered to be the culprits behind the release of classified CIA documents known as Vault 7, in which they detail secret hacking tools used by the intelligence agency. It shows them able to break into computers, phones, smart TV, even cars, then leaving behind evidence that makes it look like someone else made the hack, thus creating the theory that it could be the CIA pretending to be Russia.
If you take into account all of these perspectives, it leaves one with the notion that Russian influence may be behind the release of this video to further instill national patriotism; especially on a day, to Russian citizens, mirrors the American 9/11.