Are you familiar with the American Hijab?  Perhaps you have seen an image similar to this recently?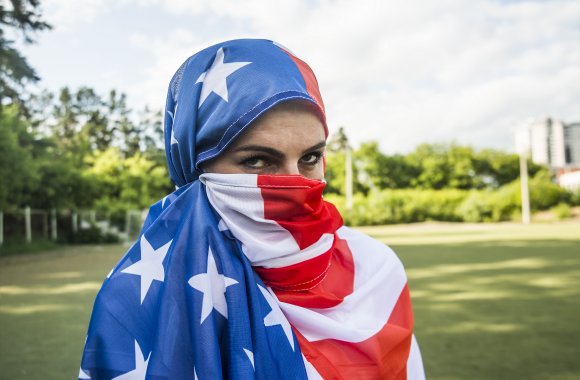 Our former President is certainly familiar with them. 
They are all the rage among white women now too.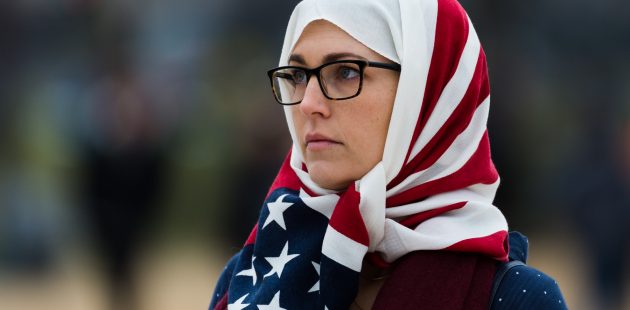 Just this year even USA Today boldly declared that the "Hijab has become a symbol of resistance & feminism in the age of Trump."  Resistance maybe but Feminism? How can a clothing item inherently conceived as a form of oppression and control over women ever have become a feminist symbol?
This illogical contradiction could only ever have occurred within our modern western society, steeped as it is within regressive liberal madness.  Given that fact its no surprise that this image was particularly popular at the so called "Women's March" that was held early this year.
Keep in mind this is the same Women's March organized by a women who stated the following.
Only in modern America would a feminist rally be organized under a woman calling for the implementation of a system built around the systematic oppression of women.  A woman who also openly demonizes actual advocates for female equality and freedom like Ayaan Hirsi Ali a survivor of Islamic based female genital mutilation, because she dared call out Islam as the  "destructive, nihilistic cult of death" that it is.
While the above examples of the American Flag Hijabs can at least still be easily recognized as the obvious leftist political propaganda they represent. Perhaps what should be much more disturbing to us is that the Hijab is now crossing the line here in the states into just another mainstream fashion accessory. Recently major clothing retailer American Eagle (maybe they should rethink that name), launched a line of new jean Hijabs.  See for yourself below.
Let's be absolutely clear here.  For millions of Muslim women, the majority in fact.  Wearing head coverings is no choice, and nothing short of a direct symbol of their oppression forced upon them daily. This is why almost every ex-Muslim woman who has escaped to the West is denouncing this slow normalization of head coverings in countries like America.
Arshia Malik a writer and teacher who formerly lived in the Kashmiri Muslim society states, "I find it very hard to accept the efforts of women in free countries to use the symbol of oppression as a means of showing solidarity.  I can only label it as either ignorance of the Liberals of the West, or outright appeasement by the regressive Left of the backward, oppressive, misogynistic attitudes of Muslim society."
The normalization of the Hijab in America should not be tolerated.  It is in effect turning back the clock on the actual female equality that first wave feminists fought so hard for. We should not be embracing any part of a barbaric foreign religion, that is fundamentally against so many of our most basic Western values and ideals.
Sadly the rare dissenting voice speaking against this normalization is increasingly rare.  We live now in an age where even alleged "Conservative" outlets such as Fox News are writing positive articles on the first Hijab wearing Muslim model on the cover of a fashion magazine. 
If you need one final bit of proof things have gone too far. Even American porn icon Hustler Magazine has gotten into the act recently with this cover.
What is done under the guide of "celebrating diversity", is the actual promotion of the destruction of gender equality. When the modern day SJW feminist drones on about the evil white male patriarchy while at the same time celebrating the Hijab, they are quite possibly displaying the greatest example of double think ever accomplished.  You simply cannot opt to promote a faith that is in these modern times is the root cause of most of the world's legitimate misogyny, and call yourself an ally to the cause of female equality at the same time. 
These days everywhere from the Huffington Post to the New York Times will tell you wearing a Hijab is actually an expression of freedom and empowerment.  But tell that to the millions of Muslim women in non Western nations who have no choice in the matter. The women who are to this day quite literally being burned with acid for not properly covering up.
Why are we in the Land of the Free, promoting and not condemning an instrument used in the suppression of people all around the world?  More importantly why are we doing nothing to stop its increasing acceptance and adoption right here at home? 
Liked or hated this? Make sure to let me know at @Jack_Kenrick or on the Squawker FB at https://www.facebook.com/squawkermedia/