It's hard to get through the Halloween season without hearing the words Cultural Appropriation these days. With every "Progressive" site online throwing up some type of warning article, in an effort to help steer people away from any potentially "offensive" costume choices. Combine that with the continued calls to stop women from wearing patriarchy supporting sexy costumes, and it almost seems like the Regressive Left is determined to take all the fun out of Halloween.
To combat those efforts I have collected below a list of my top ten culturally appropriated sexy halloween Costumes. All of which come complete with handy links of where you can purchase these costumes for yourself, or a like minded female friend.
10. Japanese Geisha 
Trigger your feminist friends with a professional submissive woman. 
09. Eskimo Beauty
Something tells me actual Eskimo women don't ever show this much skin.
08. Mexican Bartender
We all know they do like to drink after all.
07. Exotic Goddess 
Racial insensitivity and religious blasphemy all rolled up into one! 
06. Islamic Harem Princess 
Because nothing screams feminist equality like a Muslim sex slave! 
05. Egyptian Goddess
Cleopatra was blonde right? 
04. Indian Princess
Well it's one kind of "Indian" at least.
03. Day of the Dead Doll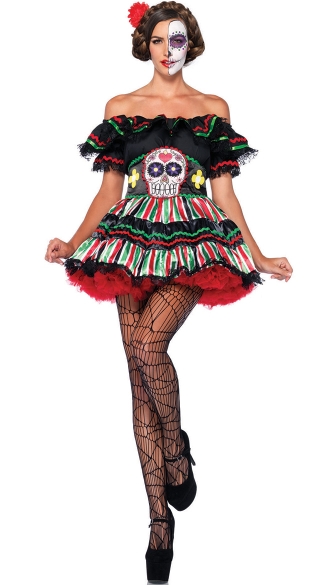 Remember Día de Muertos is a very serious holiday for honoring the dead. 
02. Asian Persuasion
I am sure this is just how normal Japanese women dress daily.
01. Sexy Mexican Flag
This girl definitely looks Mexican all right. 
If you enjoyed this article please share and follow @Jack_Kenrick. If you want to help ensure more similar content, please consider clicking this button and supporting directly. Everything helps