Recently in the United States a human being was killed in a moment steeped in political extremism.  The whole country knows this given how impossible it is to escape mention of Charlottesville victim Heather Heyer by the mainstream press.  But what if I told you another had died just this past week, murdered in cold blood by a radicalized political extremist.
You may wonder why you haven't heard about this other tragedy. The answer though begins to become clear once you learn it was an Anti-Trump leftist activist who chose to murder his GOP Committeeman neighbor.     
Last week Pennsylvania police arrested Clayton Carter for shooting and killing his neighbor G. Brooks Jennings.  The two neighbors had been arguing for some time before hand, with police having been called to the property just two days before the shooting to settle a dispute regarding alleged video recording.  
Two days later Carter accused Jennings of shining a light on him when outside. Which apparently in his deranged mind warranted the response of Carter retrieving a .380 semi-auto pistol from his house and shooting his neighbor in the head.  In fact, in a sign of the extreme hate clearly inside this man after his victim had already dropped to the ground from the first shot. Carter calmly walked over to his body, and shot him once more in the head.  This second shot witnessed directly by the victims horrified wife who had come to the window upon hearing the initial shot. It's also worth noting that the victim was on his own property when he was killed.  
Here is an image released by local ABC news affiliate of the murderer.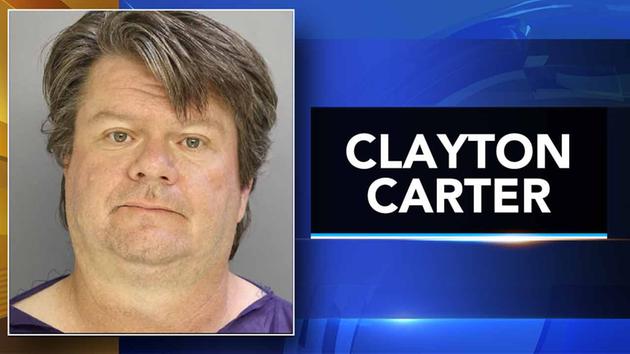 Police are aware of a history of disputes between the two men, including another instance of Carter pulling a gun at Jennings even. But what drives a man to kill another in cold blood?  What was real source of the hatred inside Carter that drove him to such extreme measures, surely it wasn't a light being flashed on him.  Carter, who others in the community describe as a "quarrelsome argumentative man" was also an incredibly political individual. His front yard littered with a series of hand crafted Anti-Trump signs, which can be seen below.
Jennings by comparison was almost the complete opposite of his killer. He was a man another neighbor Brian Doughtery described as, "probably the nicest, best guy I've ever met in my whole life. Really, seriously."  He was also a loving husband and father to a young boy who is now without a dad. But perhaps most relevant to why he died was the fact that Jennings was a respected and prominent local GOP figure in the area. Even serving as a Chester County Republican committeeman.
Not only is there every reason to believe it was Jennings right leaning politics that got him shot, it's also why you likely haven't heard his name before if you are outside the Philadelphia area. In this world where we are teetering on the brink of full on Orwellian levels of media bias, this story has gone totally unreported by everyone except the immediate local news.  Even in the coverage it has received the fact that Jennings was a prominent local GOP figure and his killer a radicalized liberal are left out of the discussion. For example, the pictures of Carter's lawn signs I shared above are mysteriously nowhere to be seen in any of mainstream press stories covering the murder.
While the death of Heather Heyer is a sad tragedy surely, hers was not even a clearly intentional cold blooded killing like in this case. If the media is determined to cover at every chance, any possible example of alleged politically right fueled violence, they can at least stop pretending the reverse isn't happening as well in increasing numbers around the country.  
Regardless of your own views, all the violence from both sides is certainly a symptom of the toxic political climate we have allowed to take root in America. One of the victims fellow local Republican representatives Ray Halvorsen said this in regards to the killing, "I've spent my entire life in local politics. I don't understand this climate. This is far beyond my 66 years."  It's a sentiment many people are surely feeling these days every time they attempt to engage in any type of open public political discourse. 
For now Mr. Carter awaits his day in court where he will be facing charges of first and third degree murder, criminal homicide, voluntary manslaughter, aggravated assault and possessing instruments of crime.
Liked or hated this? Make sure to let me know at @Jack_Kenrick or on the Squawker FB at https://www.facebook.com/squawkermedia/