05. Kanye West
Kanye is unique on this list for two reasons. Not only is he the only one to have actually announced his intent to run in 2020. But also for the fact he was the only one even discussing it back before the rise of fellow celebrity President Trump. Informing his fans all the way back during the 2015 MTV Music Video Awards of his Presidential aspirations. 
The singer later doubled down on his ambitions for office again when interviewed by the BBC. Telling reporters, "When I talk about the idea of being president, I'm not saying I have any political views. I don't have views on politics, I just have a view on humanity, on people, on truth. If there is anything that I can do with my time to somehow make a difference while I'm still alive, I'm all for it."
If nothing else his fans on Twitter at least, sure seem to be continuing to hope he is serious.
Don't care still voting @KimKardashian husband in the White House #yeforprez #Kanye2020 ‼️‼️

— ♨️DonFromTroubled♨️ (@DonFromTroubled) September 29, 2017
If you wanna win, put kanye in #kanye2020

— I$AACK LOPEZ⚡️ (@isaackthewhite) September 25, 2017
This is a beautiful man whomst I Love & Adore & I will defend his honor until the day I die #Kanye2020 pic.twitter.com/fkNO6gOP7j

— Dane (@AnthonyDana98) September 24, 2017
04. George Clooney
As one of the most politically active and outspoken Hollywood types on this list, Clooney might be an obvious choice. He campaigned heavily for Hilary last election, has spent countless hours addressing the UN, and done work for various humanitarian NGOs around the world. He is also a vocal critic of Trump, and even just donated through his "Clooney Foundation for Justice" 1 million dollars to the Southern Poverty Law Center in response to the rally in Charlottesville.
Perhaps because of all this, while on tour promoting his new movie Suburbicon, which he says was inspired by Trump. Clooney was asked by a reporter if he would like to run for President. Prompting the actor to state, "Would I like to be the next president? Oh, that sounds like fun." It's a little more serious than that though when you remember as Newsweek mentions, there is a history of seeking Public Service in the Clooney family. With his father having run a failed bid for Congress as a Democrat back in 04. With a clear eye for politics and handsome well-spoken face, it's not all that surprising some Democrats are increasingly calling on Clooney to run in 2020.
03. Mark Zuckerberg
This one you have probably heard. If only because the mainstream media seems oddly obsessed with the idea of the Facebook CEO and noted philanthropist making a run. Everyone from The Atlantic, to Wired, and even CNBC, have all been musing on the idea in recent months. Most of this speculation based on a few seemingly political oriented changes Mark has made in the past year. From distancing himself to his past professed Atheism, to his much discussed New Year's Resolution of getting to know regular people from all 50 states this year. Mark certainly has been making some moves a person would, if they were eyeing a future in politics.
Whether or not he seriously attempts to jump straight to the Presidency, an increasing amount of people who know the man personally do claim he intends to try for public office at some point. The fact he has recently even hired on key former advisers to both Obama and Clinton to his personal staff give this some real weight as well. Then again maybe the Presidency is too small for this billionaire, as close friends are keen on saying "He wants to be Emperor."
02. Ellen Degeneres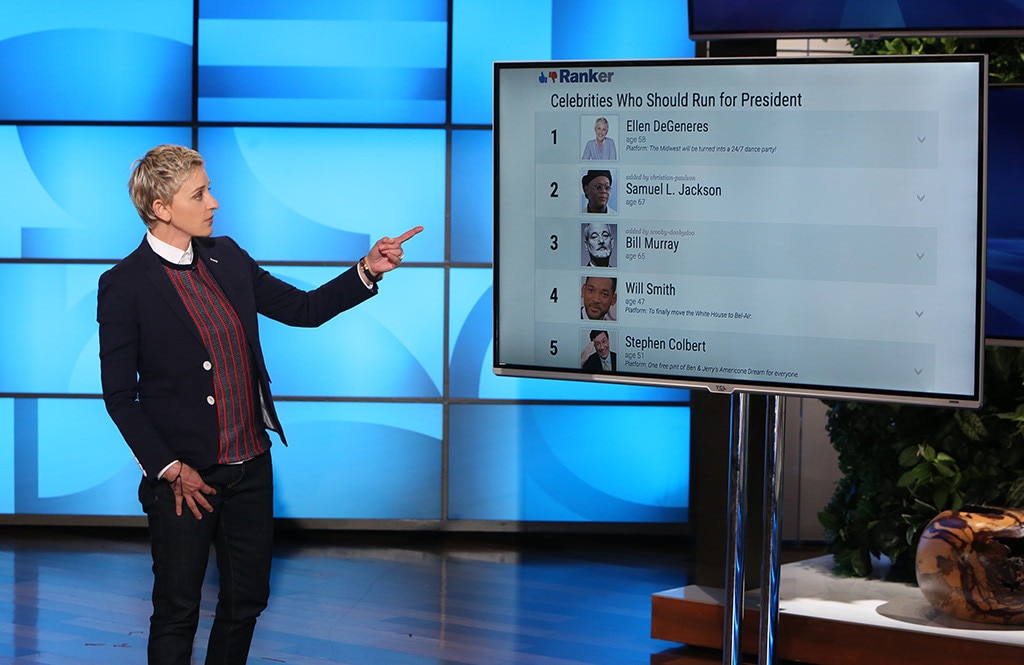 Here we have the apparent people's choice. With a recent poll asking American's which celebrity would make the best President putting Ellen firmly on top with Female voters, and in second overall only behind Tom Hanks. Despite Ellen telling these overzealous supporters she wouldn't want the job, this hasn't stopped others from continuing to rally behind her. Even Liberal stalwart the Huffington Post has said, "Ellen DeGeneres Is The Presidential Candidate We All Want, And Need." A recent Buzzfeed article even steps things up further offering, "17 Reasons Ellen DeGeneres Should Be President Of The World."
The fact that many people are still using the #Ellen2020 hashtag on Twitter shows the demand is still there. Her fans seeming determined to make her reconsider her position. If she doesn't however, Ellen's once great TV rival seems to have less reluctance about seeking the job.
Nothing but respect for my president #Ellen2020 https://t.co/5F9wTBf0Xc

— Tiffany (@tiffni27) September 26, 2017
Fuck yeah @TheEllenShow for straight up saying you wouldn't have Trump on the show. ELLEN 2020 #Ellen2020

— Haley Gerlofs (@haleygerlofs) September 20, 2017
In 2024, I think. I am hoping that will be the fourth year of your presidency, the beginning of your 2nd term. #Ellen2020. ❤️

— Maria Mandolesi (@theMMlalaland) August 21, 2017
01. Oprah Winfrey
The TV talk show icon seems to increasingly be getting serious about launching a White House bid in 2020. Just this past week retweeting out a New York Post article calling her, "Democrats' best hope for 2020" with the words "Thanks for your VOTE of Confidence!" attached.
@jpodhoretz Thanks for your VOTE of confidence!Democrats' best hope for 2020: Oprah | New York Post https://t.co/tvt82v8cMH

— Oprah Winfrey (@Oprah) September 28, 2017
Back in March as well she told Bloomberg News in an interview that ever since Trump won, the thought had been increasingly on her mind. With plenty of time to go, there's ample opportunity for Oprah to get serious about a run. With that in mind maybe her new job as a 60 minutes contributor where she is already dabbling far more in serious political matters, is actually just a small step on the road to an eventual real run for the White House. Her winning combination of gender, skin color, and name recognition, could after all, quite easily make her a legitimate contender. 
Liked or hated this? Let me know either way at @Jack_Kenrick or on Facebook